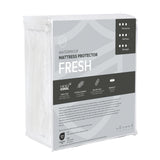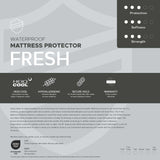 Fresh Mattress Protector
$149.00
Sleep better at night knowing you are protecting your mattress and improving your health. Mattress protectors can extend the life of a mattress, protect against spills and accidents, and reduce environmental allergens such as pet dander and dust mites.
The Fresh Mattress Protector features a water-resistant, noise-free sleep surface that doesn't compromise your mattress feel. Our soft 100% polyester microfiber fabric includes HeiQ Cool Dual Action Cooling Technology to help you sleep 5 degrees cooler throughout the night. This proven technology is used worldwide and is the world's first textile technology to deliver instant contact and continuous evaporative cooling for optimal comfort day or night.
The 18" deep-pocket fitted skirt includes a 2-way stretch allowing for a sure fit and easy removal when it's time to wash your bedding. Protect your investment and improve your health with the Fresh Mattress Protector.
Machine wash cold, gentle cycle, no bleach, tumble dry without heat.
Top: 110gsm 100% polyester microfiber woven and HeiQ adaptive cooling treatment
Skirt: 100gsm 92%polyester, 8%Spandex, and 2-way stretch knit fabric
18" Skirt Depth
Weight: 0.0 lb